Yes I have been away from my post for a while just nothing worth writing about. But finally did something new. I took a week long camping trip to Texas. But before I write about Texas I went to a Pain doctor and got two shots in my back which helped with my back pain so I was able to manage camping much better than I had before.
I left for Texas from Kansas on a Monday, it was a rough first day of driving the wind was high and it made my camper weeble wabble down the road so the best I could do was 50 miles an hour in a 75 miles an hour road. I stopped at my brothers and left my scooter there. Which helped the wiggle on the road. I then pulled into my first camp site, a KOA site which was very nice. I set up camper and ended up going to bed very early. Then next morning I got up and packed up the camper of the few items I had loose and headed out. I drove from Kansas to Texas – Wichita Falls. It was a long drive but at least the wind wasn't so bad and I was able to kick it up to 60 miles an hour. The Texas campsite was very nice and I was there pretty early so I hung out. I watched some shows on my iphone and then went to bed. The next morning I went to Abilene State Park were I was going to attend a YouTube gathering put on by Lola "Lost on Land Again" which was the main reason for my trip.
My friend from Overland Park came to the Park also and we ended up rent a car to be able to get around the park area. I was able to me so many new people who I have been following on youtube and other as well. Below is a picture of the last day at Lolapalooza it was a great group of people and I hope to go back next year.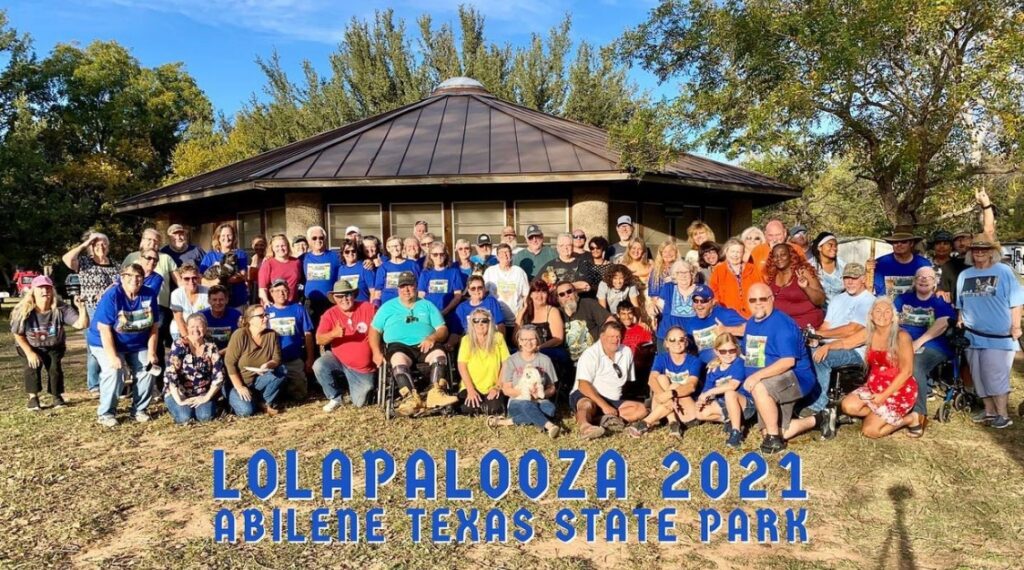 When I left I was able to stop for the night at a camp ground near my Son, so he and my daughter-in-law came up to see me and we were able to go out to eat and spend some time together. The next day I did a long drive and made it to Kansas again but this time I stayed at a motel. The next day I made it home.